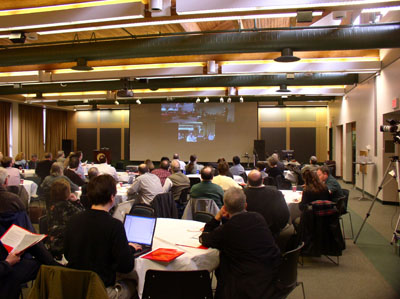 Symposium Agenda
Information Technology for Research:
The Impact of National Directions in Cyberinfrastructure
April 4th, 2006
9AM-4PM

Executive Meeting Room, Camden Campus Center, Camden
MPR West, Robeson Campus Center, Newark and
MPR, Busch Campus Center, New Brunswick
Sponsored by
The Office of the Vice-President for Research
The Office of Information Technology and
Internet2



To hear/see all presentations as a podcast, please paste the following into your podcast-grabber
http://www.cs.rutgers.edu/cs/Events/Internet2_2006/podcast.mss

To see an individual presentation in a variety of formats (lecture123, mp3, mp4, realmedia), please select the title of the presentation. This presentation by the Laboratory for Computer Science Research, Rutgers University

( ) indicates origination of presentation

A few pictures of the event.
---
For questions or comments about this site, contact oirt@rutgers.edu
Last updated: Wednesday, 15-Feb-2006 12:13:02 EST

© 2006 Rutgers, The State University of New Jersey. All rights reserved.